The Helium network now supports open source LTE and 5G phone service. To make this possible Helium gateways, such as the FreedomFi 5G, were designed to support certified CBRS (Citizens Broadband Radio Service) phone cells to process cellular data. So if you have a cell phone with the latest technology and the proper SIM card it could connect to a 5G gateway powered by Helium community members.
Why setup a 5G CBRS indoor small cell
The approval of HIP 51 (Helium Improvement Proposal) enables additional wireless networks such as 5G, WiFi, and VPN's to join the Helium environment. These new networks unlock additional utility for the overall Helium ecosystem.
MOBILE tokens will be distributed to Helium 5G gateway bundle owners as rewards for contributing to the Helium 5G network. These MOBILE tokens are convertable into Helium tokens (HNT) at a specified ratio. Tip – Be sure to update the Helium wallet app to the latest version to use these new token features.
Small Cell Radio Reward Scaling
All properly installed and registered 5G gateways will earn rewards for participating on the network. A rewards multiple is applied to the various small cell radio models based on whether they are indoor, outdoor, and their power output.
Individual rewards per period are calculated as a proportion of the total weighted reward units. Read more about the reward structure and examples on the Helium website.
| Small Cell Radio Model | Reward Weight | Small Cell Radio Type |
| --- | --- | --- |
| Baicells Nova 436H | 2.0x | High-Power Outdoor |
| Baicells Nova 430i | 1.5x | Outdoor |
| MosoLabs Outdoor Small Cell | 1.5x | Outdoor |
| FreedomFi Indoor Small Cell | 1.0x | Indoor |
| MosoLabs Indoor Small Cell | 1.0x | Indoor |
| Baicells Neutrino 430H | 1.0x | Indoor |
FreedomFi 5G CBRS indoor small cell
In this tutorial we will setup a FreedomFi 5G CBRS indoor small cell on the Helium network. These small cells cover approximately 15,000 sq feet which equates to about 80 feet in any direction. Click here for information on how to setup a Helium gateway. For this tutorial you will need the following components:
Helium 5G gateway miner
The Helium app on your phone
An indoor CBRS 5G small cell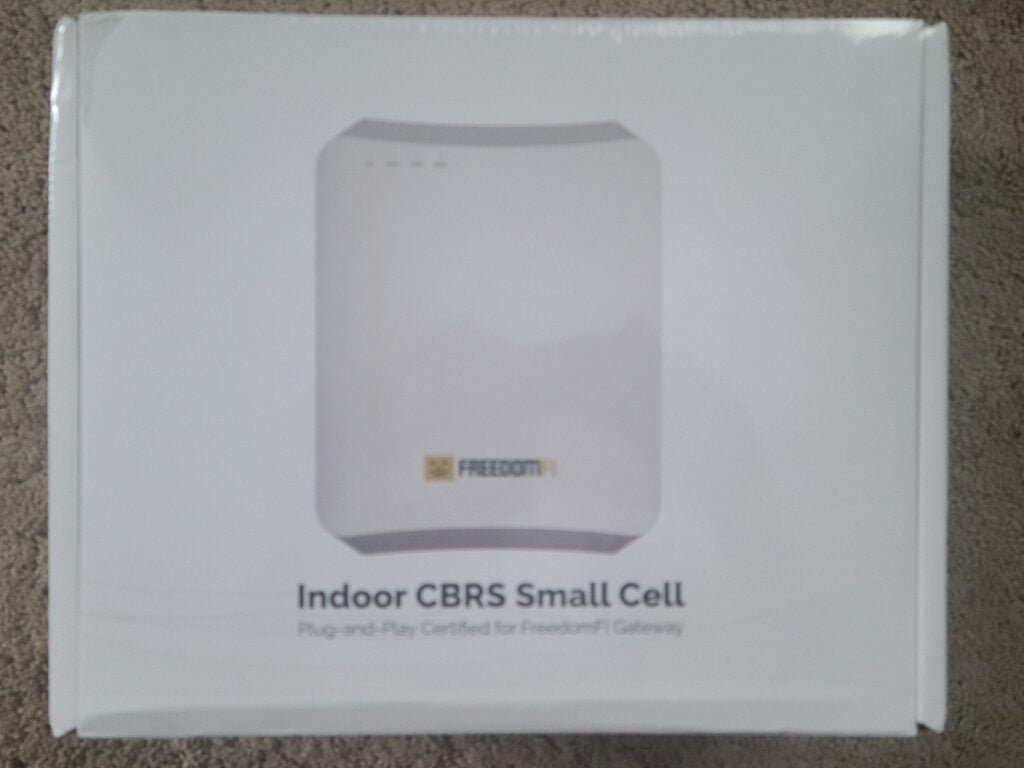 What is the best location for a Helium 5G CBRS cell
Helium 5G is only available in the United States
First select a location for your Helium 5G cell so it can be mounted securely and not obstructed. CBRS cells have much less range then LoRaWAN. Their signals can be weakened or blocked by obstacles like walls, trees, and buildings.
Competing with a cell phone company will be difficult so make it a goal to find a location with inadequate cell phone coverage (dead zones).
Seek locations that have the following characteristics:

Poor cell phone coverage
A lot of foot traffic
People sitting around or hanging out for an extended period of time

For maximum coverage point the cell towards a populated area where people are using their phones.
Furthermore indoor locations might have less competition with cell phone carriers.
Some example locations are:

Underground bars
Parking garages
Doctors offices
Train stations
Shopping malls
Coffee shops
Shopping centers
Concert halls
Indoor play grounds

The goal is to place your 5G cell in a dead zone that is under served by cell phone carriers.
5G health concerns
There are public health concerns with 5G radios. 5G is not specific to a frequency band and is not the same as high frequency mmWave. 5G uses much of the same frequencies as LTE. According to the FreedomFi website they provide 5G compliant architecture for the gateway however, the first cellular radio they certified as part of their bundle is LTE. Make sure you do your own research as it relates to the health effects of 5G radios.
Below is an excerpt from the FreedomFi website.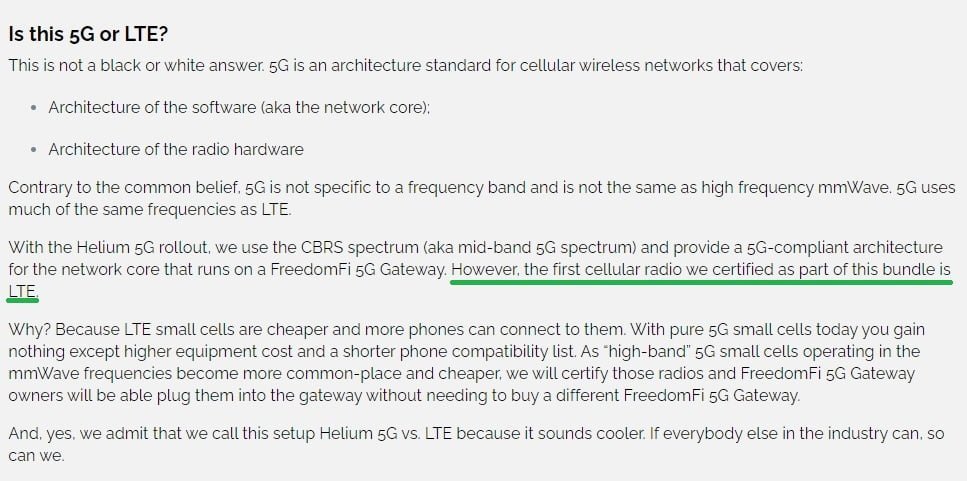 Helium FreedomFi gateway and 5G cell diagram
Setup steps for a 5G CBRS small cell
A certified installer is not needed to install a Helium 5G FreedomFi indoor CBRS small cell.
For this tutorial we will focus on setting up the FreedomFi 5G CBRS small cell.
To get started make sure the Helium app is downloaded on your phone and the FreedomFi gateway is already setup. If needed follow these steps to setup a Helium gateway.
Make sure there is no power to your FreedomFi gateway.
First connect the GPS antenna to the back of the small cell labeled GPS. The other end of the GPS line should be placed near a window or up high to help secure a GPS lock.
Connect the Ethernet cable to the port labeled WAN on the small cell.
Next connect the Power cable to the back of the small cell. Do not plug it into an outlet yet.
Connect the other end of the Ethernet cable to the port labeled eNB1 on the FreedomFi gateway.

At this time plug in the FreedomFi gateway and CBRS small cell to power them on.
Finally verify the LED lights illuminate on the small cell. The SYNC, PWR, and WAN LED's will be solid green after 10-15 minutes. The LTE LED may take up to 24 hours and should be blue. The LTE light may blink during connectivity. This process can take some time so do not rush it.
The small cell is now ready to use on the Helium 5G network.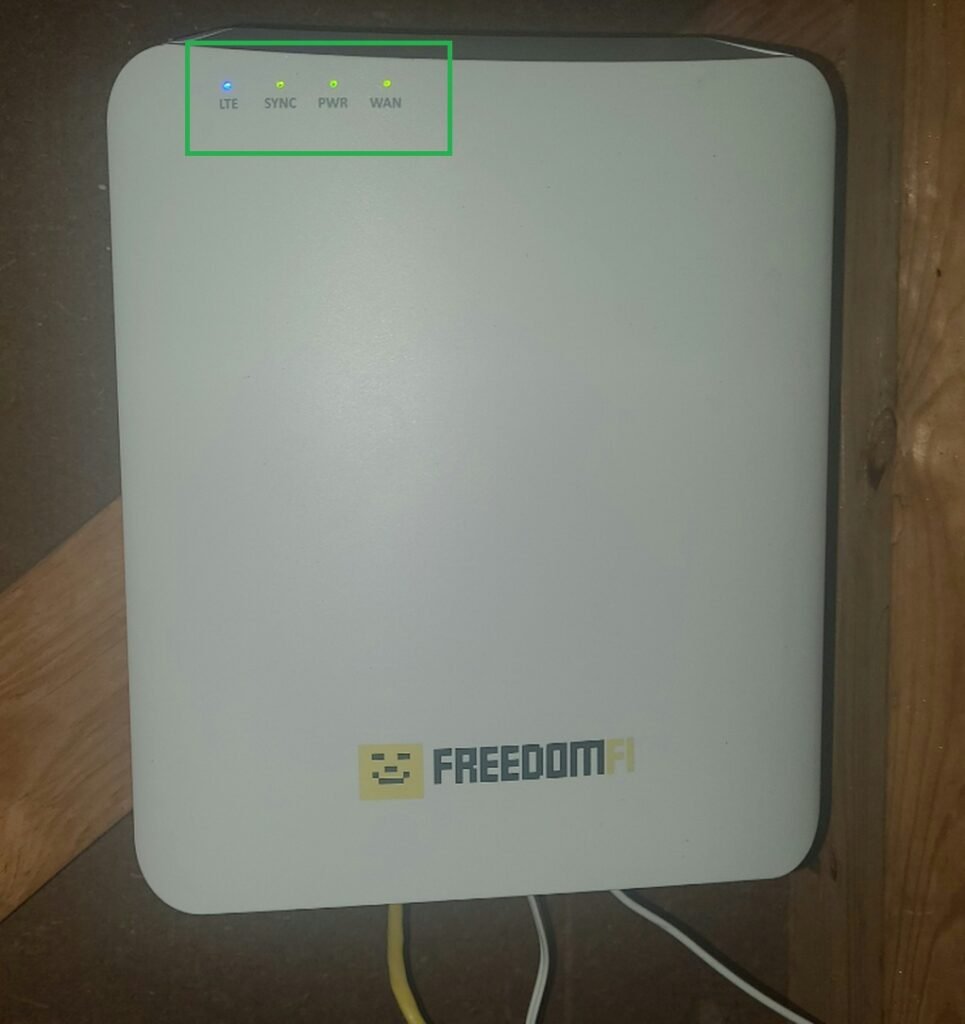 Verify the setup of your 5G CBRS small cell
Verify your gateway and internet connection using the FreedomFi web user interface. This interface is located on the FreedomFi gateway at http://freedomfi-gateway.local/. Book mark this page for future use to monitor your device.
Use the Helium Explorer to check the status of your gateway. A day or two after your 5G CBRS small cell is activated your hex can be viewed as 5G on the Helium Explorer.